Day of the Dead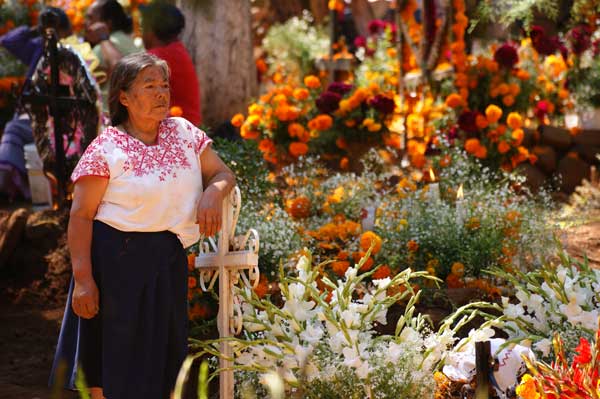 Join us and bear witness to one of the most traditional celebrations in Mexico, Día de Muertos  (Day of the Dead). During this celebration families decorate the graves of their lost loved ones with food, drink, photographs and other items that they enjoyed during life. The belief is that their souls return to the earth to listen to the prayers and conversations of their families during this one special night.
During the first day of this tour we visit the beautiful city of Morelia, declared a UNESCO World Heritage Site in 1994. On our second day we travel to the towns of Tzintzuntzan and Pátzcuaro where we have the opportunity to see the celebrations in their most extravagant form. We learn about this interesting tradition and the special importance that it has in this region, whilst we admire the beautiful flowers, catrinas (skeleton figures) and other decorations. During the night the cemeteries are illuminated with thousands of candles and the life of all the people that join together to celebrate the lives of their lost loved ones.
After the excitement of the celebrations we have a relaxing morning in Morelia followed by departure to Guadalajara to enjoy this colonial city centre and the beautiful Tlaquepaque. This trip includes local artisan markets with Michoacan's famous handicrafts!
Dates & Prices:
Dates: 
31 October – 03 November 2017.
Prices:
$6,100 pesos per person based on 2 people sharing.
Single Person Supplement: $1,200 pesos.
Price includes: transport, accommodation, breakfasts & guide.
Itinerary: Click here to see the itinerary for this tour.
Gallery: click here to see the photo gallery for this tour.
Difficulty level: Medium* – generally low difficulty level tour, but long day/late return to hotel on day 2 makes this trip a little more demanding. Walking at slow pace with stops throughout and evening meal/relax time in comfortable restaurant in Patzcuaro with opportunity to change clothing for evening tour.
Recommended: Sun screen, hat, sweater/jacket for evenings, comfortable walking shoes and day bag for change of clothing on day 2.
Climate: Warm during day time, cooler in evenings and much cooler on night of day 2 (late return to hotel).
*Please note that each of our tours is tailored to the needs of the over 50s and our difficulty levels are simply comparative to our other tours. If you are in doubt as to whether or not this tour is suitable for you, please contact us for more information.