Copper Canyon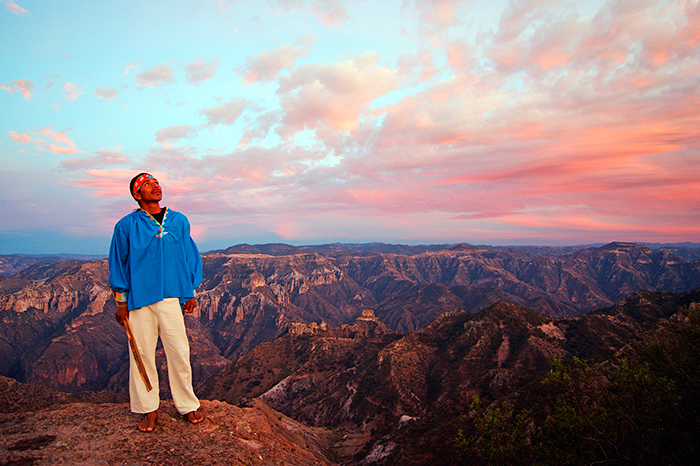 Enjoy the spectacular Copper Canyon on one of the world's most exciting train rides! Day one of our trip takes you to the colonial town of El Fuerte for a guided walk to admire the Spanish architecture. Our journey along the famous Copper Canyon Railway begins early on day two, boarding in El Fuerte and disembarking in the town of Bahuichivo for transfer to Cerocahui; the base for our trip to see the breathtaking Urique Canyon and to visit a Tarahumara boarding school.
On day three we take in more stunning views from the train as we travel from Bahuichivo to Barrancas, followed by a visit to traditional Tarahumara cave dwellings. Here we enjoy two nights in the spectacular Posada Barrancas hotel on the edge of the canyon, each room with a first class view! From here we visit the Piedra Volada (flying rock) viewpoint and offer optional extras such as a cable car ride, zip lining or the Zip Rider, the world's longest zip line!
Day five of our trip takes us from Barrancas to the viewpoint of Divisadero, followed by a visit to the Mennonite camps of Cuauhtémoc for a traditional lunch. From there we continue to Chihuahua for a city tour and our return flights on day 6. 
Dates & Prices:
Please note that dates for this tour are subject to change by 1 – 2 days either way due to changes in flight schedules.
This trip can be arranged for private groups on other dates – please contact us for more information.
Dates:
11 – 17 January 2018
8 – 14 February 2018
15 – 21 March 2018
Prices: 
$20,400 pesos per person, based on double occupancy (7 day tour), INCLUDING FLIGHTS! 
Guadalajara, Chapala and Ajijic departures: $19,800 pesos (6 day tour), based on double occupancy.
Single person supplement: $1,700 pesos.
Price includes: transport (including flights**), accommodation, 12 meals (mentioned throughout itinerary) and guide. ALSO NOW INCLUDING tips for bell boys and hotel/restaurant staff. Price does not include: tips for your guide and bus driver, tips for bar staff and tips in restaurants where meals are not included.
** Flights are from Guadalajara to Los Mochis, and Chihuahua to Guadalajara. Transport to/from airports is also included.
Photo album: Click here to see the photo album for this tour.
Difficulty level: Low* – slow pace walking tour in el Fuerte and Chihuahua, optional walk to Tarahumara cave homes (down steep stairs) and around short section of canyon, but sights can be appreciated without taking this option.
Optional zip lining: for series of 7 zip lines difficulty level is medium, including walks between zip lines, for world's longest zip line difficulty level is high, including 45 minute walk uphill to cable car station for return to meeting point.
Recommended: Sun screen, warm clothing for evenings, comfortable walking shoes.
Climate: Warm during day time, considerably cooler in evenings from day 2 onwards.
*Please note that each of our tours is tailored to the needs of the over 50s and our difficulty levels are simply comparative to our other tours. If you are in doubt as to whether or not this tour is suitable for you, please contact us for more information.