Chiapas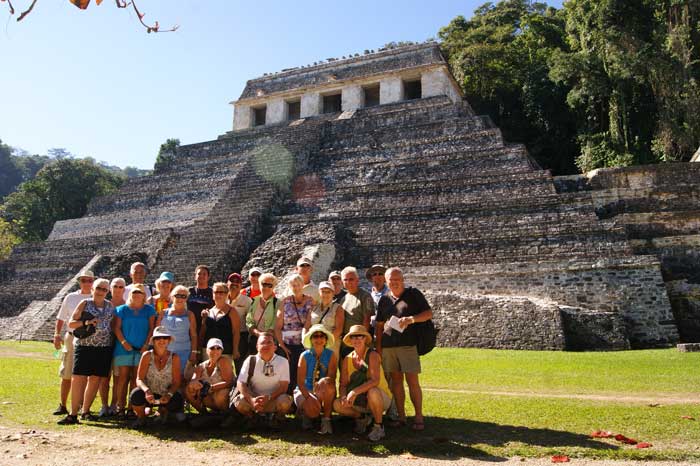 Chiapas is the southernmost state of Mexico; it offers a wide range of spectacular sites, and is host to one of the largest populations of indigenous people in the country. Join us on a trip through the highlights of this state, including the Sumidero Canyon, San Cristobal de las Casas and the archaeological site of Palenque.
During the first day of this tour we travel to the Magic Town and cultural capital of the state, San Cristóbal de las Casas. From here we visit the impressive Sumidero Canyon, whose walls reach up to 1000m in height, where we embark on a boat ride along the Grijalva River. We also take a trip to the indigenous town of San Juan Chamula, a place full of history and tradition, inhabited by the Tzotzil people.
A highlight of this tour is the famous Mayan archaeological site of Palenque. On the journey from San Cristóbal to Palenque we stop at the beautiful waterfalls of Misol-Ha and Agua Azul. Our tour includes accommodation in the tropical forest surrounding the ruins, where we can hear the local wildlife, including the calls of the howler monkeys and many bird species. Accompanied by an expert guide of the region, you will learn about traditional Mayan life and its influence on the creation and fall of this great city.
Dates & Prices:
This tour can be arranged for private goups on other dates – please contact us for more information.
Dates: 
13 – 18 March 2018
Prices:
$15,200 pesos per person based on double occupancy.
Single person supplement: $2,000 pesos.
Price includes: transport (including flights*), accomodation, breakfasts, boat ride and guides.
* Flights are from Guadalajara to Tuxtla Gutierrez and Villahermosa to Guadalajara (transport to/from airports is also included).
Gallery: Click here to see the photo gallery for this tour.
Difficulty level: Medium* – Slow pace walking, some uphill in towns/villages. Optional walk to top of waterfall (Agua Azul), but can be appreciated from bottom. Optional longer walk at Palenque archaeological site, flat walk for those who choose not to take this option.
Recommended: Sun screen, hat, sweater/jacket (San Cristóbal evenings), comfortable walking shoes, swim suit and light weight towel/sarong (swimming at waterfalls and hotel in Palenque).
Climate: San Cristóbal de las Casas – warm during the day, much cooler in evenings. Palenque – hot during the day, warm at night.
*Please note that each of our tours is tailored to the needs of the over 50s and our difficulty levels are simply comparative to our other tours. If you are in doubt as to whether or not this tour is suitable for you, please contact us for more information.